Universality is the latest trend
| | |
| --- | --- |
| | Gabriela Franco, who holds a Master of International Management (MIM) degree, is the global marketing manager for COPAN Diagnostics, Murrieta, Calif. She has more than 10 years' experience in marketing and product management. |
By Gabriela Franco
Until recently, the emphasis on the preanalytical phase of microbiology has been limited. Particularly, swab transport devices, because they have been considered just accessories to diagnostics and have been undervalued, often not seen as contributors to the outcome of the diagnosis. Anybody involved in side-by-side clinical trials or development of new assays knows that swab collection, preservation, and transport can have a direct impact on the outcome of the trial.
Swab samples contribute a significant part of samples processed in clinical microbiology, but there has been little innovation in the collection tool itself, as all the emphasis has been on the preservation media. With recent innovation in collection and transport devices and major corporations shifting their attention to the need for automation in the preanalytical phase of microbiology, can preanalytics bring sexy back and become the talk of the party?
BACKGROUND
The Clinical and Laboratory Standards Institute (CLSI, formerly NCCLS) divides the clinical laboratory path of workflow in three key chronological processes: preanalytical, analytical, and postanalytical phases. The preanalytical phase of the clinical laboratory path of workflow comprises patient assessment, test request, specimen collection, specimen transport, and specimen receipt. The M40-A Standard for Quality Control of Microbiological Transport Systems is the CLSI standard that addresses the preanalytical step of specimen transport. In this document, CLSI states that "transport devices are essential components of the preanalytical process of microbiology laboratory testing. It is recognized that these early steps in the total testing process are critical to production of clinically relevant information." However, collection and transport devices are often thought of as boring and definitely not the subject of conversations at cocktail parties.

THE THREE QUESTIONS
There are three important questions that should be addressed to preserve adequate quality of the samples in the preanalytical phase prior to arriving at the laboratory: correct sample collection, using the right tool, and placing it in the correct preservation media.
Samples need to be collected from the site of infection where the suspected organism is most likely to be found to be meaningful, avoiding as much normal flora and extraneous material as possible. Is the staff properly trained to collect the sample from the right site of infection? Correct sample collection is directly related to the training of the staff. As technology continues to develop, laboratories can take advantage of tablets and smartphones for training purposes as more and more interactive training tools become available to continually improve education of how and where to collect. A good diagnosis relies on the sample being collected directly from the point of infection. "You have to make sure that the sample is not collected in the lobby, but all the way down to the hallway," says Norman Sharples, CEO, COPAN Diagnostics, Murietta, Calif.
Once the staff is properly trained on proper collection techniques, the next question is about the right tool for the job. The scientific community now recognizes that traditional fiber wound swabs, sometimes affectionately referred to as "mattress swabs," are not ideal tools for the release of specimens. The development of flocked swabs introduced innovation in the field of collection devices, which hadn't experienced any significant changes for more than a century. The introduction of flocked technology for microbiology purposes has revolutionized the world of swab collection devices by creating a tool that collects more sample and releases the entirety of it for greater sensitivity for different applications, ranging from traditional bacteriology, to virology and molecular applications.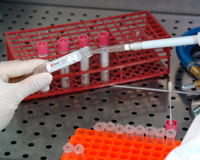 Transport swab being used for molecular testing. If the sample is more intuitive to collect, by using an anatomically correct tool, the experience may be less traumatic for the patient and ensures optimum collection from the site of infection. Recent studies have found that if the collection tool is anatomically designed and intuitive, self-collection for certain types of investigations could be possible. A study by Mayo Clinic found that if patients follow the correct instructions, "self-collected midturbinate nasal swabs provide a reliable alternative to health care worker collection for Influenza A and B virus" using PCR methods. More target analyte collected from the site of infection automatically leads to greater sensitivity by amplification of the actual analyte while minimizing background interference.
UNIVERSALITY IS THE LATEST TREND IN PREANALYTICS
The correct preservation media is the third important question that needs to be addressed in preanalytics, and universality is the latest trend. As new assays are developed and new technology becomes available, the challenge is how to improve diagnostics services for clients without having to add yet another collection device to the test menu. The key moving forward is to streamline and broaden test menus with less, if not a single collection device. To do so,
compromise is required.
There is no system currently in the market optimized for molecular assays that, at the same time, allows cultivation of a broad range of microorganisms after extended transport. Because organisms need to be alive to be cultured, the weak link is culture. On the other hand, no molecular panel currently covers all clinically important organisms. The beauty of microbiology is that you never know what the next new bug or next drug resistance will be, and thus culture will always be needed and relevant. New or opportunistic pathogens and multiple drug-resistance organisms would go undetected if culture were to be abandoned.
The promise of MALDI-TOF technology is that it helps speed up the traditional bacteriology culture, ID, and AST turnaround times. The compromise in specimen preservation is to be more indulgent with media that favor culture and realize that, if the same media are used with molecular applications, a couple basic steps in the assay procedure need to be maintained: extraction and purification. With that approach, universality is possible and streamlining and making collection more convenient is feasible. With less collection devices, or better still, one universal device, there is less confusion for medical professionals interacting with the patients, which can reduce the number of samples that need to be retaken, save significant cost, and ultimately, improve patient care.
IN THE LAB
With improvements in swab collection and transport devices for bacteriological samples, an important door has been unlocked. Urine samples and swabs taken from a variety of sources account for the largest volume of samples received in the microbiology laboratory. The microbiology lab receives a wide variety of specimens of different viscosities in a broad variety of containers types. In microbiology, the mechanical challenge of getting the sample out of the swab bud was an obstacle preventing true automation in preanalytics. Traditional wound swabs can be automated, but it requires different steps of manual preparation work to move the specimen from the fiber swab to a saline solution. Using flocked swabs along with preservation media as a collection and transport device for bacteriology puts swab specimens instantly in liquid format. By having swab samples in liquid format, microbiology now has the ability to standardize and automate its preanalytical phase, similarly to the revolution that took place in chemistry and hematology when vacuum tubes, such as Vacutainer™ and Vacuette®, were introduced with subsequent standardization of containers adopted, and automation catapulted.
An aging microbiology workforce and an impending retirement boom, together with soaring workloads and changes in reimbursement rates, are contributing factors to a recent shift of attention by diagnostic companies to what was arguably the least "sexy" area of the lab: preanalytics. The task of specimen setup is an important task in the microbiology lab that needs to be done proficiently, but it is repetitive, laborious, and time-consuming. Since 2008, a number of instruments have been introduced in the United States market to address the need for automated specimen processing in bacteriology, from planting and streaking of samples to broth inoculation and gram slide preparation. The different instruments can hold different types of media, and they can plant and streak consistently throughout the day.
The reproducible automated planting and streaking of media and preparation of gram slides produces consistent quality, regardless of the time of the day, for faster and easier readability of the plates and gram slides. When the automated processor is interfaced with the hospital's LIS system, it can electronically receive the specimen in the system, and it accurately records the exact time the sample was processed for improved traceability. Automation in specimen setup is a viable alternative to unfilled staff vacancies or as a means to redeploy scarce human resources to other tasks in the lab, such as interpretative work.
AUTOMATION OPTIONS
Automation in microbiology in the United States is being taken a step further than just planting and streaking. Different offerings revolve around conveyor-connected systems that move the plated media to smart incubators with built-in cameras that capture digital images of the culture media at different time intervals. The digital culture media images give laboratory professionals the flexibility of interpreting results remotely outside of the expensive and often limited laboratory space. Digital reading and remote workup of specimens presents an exciting option for microbiology. With these groundbreaking changes and converging technologies entering US laboratories, is preanalytics ready to bring sexy back?
Gabriela Franco is a contributing writer for CLP. For more information, contact Editor Judy O'Rourke, jorourke@nullallied360.com
REFERENCES
1. NCCLS. Quality Control of Microbiological Transport Systems; Approved Standard. NCCLS document M40-A (ISBN 1-56238- 520-8). NCCLS, 940 West Valley Road, Suite 1400, Wayne, Pennsylvania 19087-1898 USA, 2003.
2. Dhiman N, et al. Effectiveness of Patient-Collected Swabs for Influenza Testing. Mayo Clinic Proc. June 2012;87(6):548-554. doi:10.1016/j.mayocp.2012.02.011.
3. Check W, ed. Survey of Clinical Microbiology Laboratory Workloads, Productivity Rates and Staffing Vacancies. Washington, DC: American Society for Microbiology; 2005.