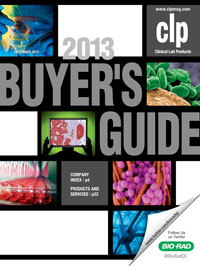 Clinical Lab Products has just released its 2013 Market Guide issue.

The annual guide is a comprehensive resource tool used year-round by clinical lab professionals when seeking information on available products and services in the industry.

The Buyer's Guide serves as CLP's December issue, and the information is housed year-round on the Web site—mouse click and mobile friendly.
Click here to access the Web site, then click on "Market Guide" near the top of the home page. You may also click on "Interactive Edition," to view the digital edition.