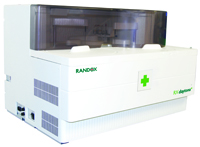 The RX daytona plus from Randox Laboratories, UK, with US headquarters in Kearneysville, WVa, provides high-quality testing on a company and easy-to-use clinical chemistry analyzer.

The benchtop, fully automated, random access clinical chemistry analyzer allows real cost savings through consolidation of routine and specialized testing onto one platform. The RX series test menu and the ability to run emergency samples ensures optimum efficiency and rapid turnaround of STAT samples. It features a sample clot detection sensor and offers many of the features typically found on a larger automated analyzers, but in a more compact format.
The analyzer offers superior performance for mid-volume laboratories and is capable of running 270 photometric tests per hour or 450 tests per hour, including ISE's via the optional ISE unit. A low water consumption of just 5 liters per hour allows running costs to be kept to a minimum, and the loading hatch allows emergency samples to be analyzed quickly and easily at any time. Remote access diagnostics allows immediate access to the system, ensuring reduced down time and the expenses associated with timely engineer callouts. A dedicated RX team provides instant technical support and customer care.
The user-friendly, Microsoft Windows-based software offers ease of navigation through an intuitive, symbol-based interface, ensuring minimal training requirements.
The analyzer can be used within many laboratory settings including clinical chemistry and toxicology.
[Source: Randox]