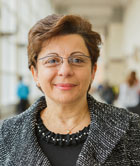 Irina Lutinger, FACHEAs the massive Hurricane Sandy bore down on the East Coast last October, water gushed through the entrances of New York University's Langone Medical Center on New York City's Upper East Side.
As the water raced rapidly down the first floor corridors, hospital and laboratory staff began moving equipment into elevators to get to higher ground.
The elevators shut down, and the entire hospital went dark. "It was like being on the Titanic," recalls Irina Lutinger, FACHE, MPH, MASCP, H(ASCP)DLM, senior administrative director of clinical laboratories at the Medical Center, who was in her laboratory at the time. "It was very eerie." A member of the American Society for Clinical Pathology's (ASCP) board of directors, Lutinger says that as devastating as natural disasters are, they offer hospitals and laboratories an opportunity to make significant upgrades in their aftermath and to learn invaluable lessons.
At Langone Medical Center, the water rose more than 13 feet during Hurricane Sandy, filling the basement and sub-basement where the network infrastructure was located.
In a dramatic move, the hospital—assisted by the National Guard and the city's emergency services team—evacuated more than 300 patients to other area hospitals that evening and through the next day. "We have a disaster preparedness plan in place," Lutinger says. "Hurricane Sandy was unique because of its sudden impact and the large number of patients who had to be evacuated. No matter how well you prepare, when an event as dramatic as this happens, you can never feel ready to embrace the storm and its challenges."
Working in the Medical Center's favor was that it has a comprehensive emergency phone tree to contact employees in order of priority. The staff used cell phones and sent text messages to communicate because they couldn't use e-mails with the network servers down. Additionally, all departments had emergency resources—flashlights, small lamps, extension cords, face shields, and gloves—stored in more than one location.
Although the Medical Center's clinical and research operations suffered extensive damage, the facility is forging ahead, aided by the resilience and enthusiastic support of its staff.
"A key lesson is: Where do you keep your data?" Lutinger says. "The information technology highway should be at the top of the list.
The Medical Center makes network upgrades continuously. Yet the hospital facility was built a long time ago. A new hospital is being designed and will have fully upgraded infrastructure within a protected location."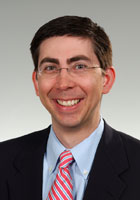 Gregory Sossaman, MDSimilarly, the information technology system was one of the biggest areas that Ochsner Health System, in New Orleans, upgraded after Hurricane Katrina hit the Gulf Coast in August 2005. Gregory Sossaman, MD, FASCP, ASCP treasurer, is system chairman of Ochsner Health System's Department of Pathology and Laboratory Medicine and medical director of Ochsner Medical Center's William G. Hellis Memorial Laboratory, in New Orleans. Although its facility did not flood during Hurricane Katrina, the health system spent millions of dollars to upgrade its facilities, especially its information technology infrastructure the following year.
"Several other facilities in our system relied on information technology that resided here," Sossaman says. "We needed additional networking lines and servers upgraded to handle IT [information technology] needs. We also added generators for air conditioning for the facility and drilled more wells on the campus for the chemistry equipment that relied on water to operate.
"Our facility upgraded its communication and disaster center, including direct access into the county emergency preparedness center," adds. He worked at another hospital in New Orleans that shut down after Hurricane Katrina and began his new job at Ochsner Health System a few months later. "At the time, it was very awe inspiring that the year after Katrina, where they lost millions of dollars in damage, they spent millions to upgrade," Sossaman says.
[Source: ASCP]