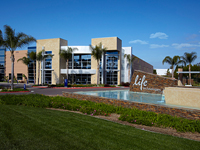 Life Technologies Corp , Carslbad, Calif, has received FDA 510(k) clearance for its 3500 Dx Genetic Analyzers and SeCore® HLA typing kits.
The 3500 Dx is now the only 510(k)-cleared Sanger sequencer commercially available for the diagnostics market, according to the company. Sanger, also known as capillary electrophoresis, sequencing is the technology that powered the Human Genome Project.
The company also plans to submit its next-generation sequencing instrument, the Ion Torrent Personal Genome Machine (PGM™) for 510(k) clearance. "We will continue to aggressively pursue a regulatory pathway for our leading technologies in the clinical space, including next-generation sequencing," says Greg Lucier, chairman and chief executive officer of Life Technologies.
Products included in the current 510(k) clearance are Applied Biosystems™ 3500 Dx/3500xL Dx CS2 Genetic Analyzers, 3500 Dx Series Data Collection Software v1.0, Invitrogen SeCore® HLA Sequencing Kits, and and uTYPE® Dx HLA Sequence Analysis Software. The 3500 Dx instrument is CE-marked for in vitro diagnostic use in Europe, has been approved by China's State Food and Drug Administration (SFDA) for diagnostic use in China, and is also available in Japan, Australia, India, New Zealand, Singapore, and Taiwan.
Tissue typing is an essential component of determining compatibility between donors and patients for organ and bone marrow transplantation. HLA typing on the 3500 Dx offers labs an optimized, streamlined workflow with higher resolution than other molecular HLA typing technologies such as sequence-specific oligonucleotide (SSO) methods, the compay says.
"Precise HLA matching between donor and patient significantly improves overall transplant survival," says Ronnie Andrews, president of medical sciences at Life Technologies.
"Sanger sequencing remains the gold standard for providing the reliable results clinical labs need, and 510(k) clearance of the 3500Dx will help to establish sequencing technology as a mainstay of the hospital lab," says Andrews. "The instrument was designed with the clinical laboratory in mind, featuring a novel design that incorporates the ability to track reagent usage with radio frequency identification (RFID) tags, as well as redesigned data collection and analysis software."
The company expects that clearance will facilitate development of additional assays using the 3500 Dx and open up new partnerships with assay developers.
[Source: Life Technologies Corp]