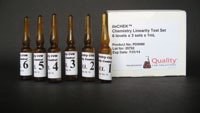 Quality Lab Solutions LLC, Oceanside, Calif, introduces the inCHEK™ Chemistry Linearity Test Set, a recent addition to its linCHEK product line of calibration verification/linearity material.
Chemistry Linearity Test Set is a liquid product packaged as six distinct levels with three ampules of 1mL for each level.
Twenty-five different analytes, including the most requested tests, are included.
A full 18-month supply of product is available with each test set by providing three separate sets of linearity material.
According to the Centers for Medicare and Medicaid Services' (CMS) mandated CLIA '88 regulations, clinical laboratories that perform moderately complex testing must perform calibration verification procedures to substantiate the continued accuracy of any test system throughout the laboratory's reportable range of test results for each specific test system.
Quality Lab Solutions provides several different calibration verification/linearity products to meet these requirements.
[Source: Quality Laboratory Solutions]