The Center for Phlebotomy Education, Corydon, Ind, is conducting an intensive 3-day Train-the-Trainer seminar for those who train or manage phlebotomists.
The event will take place at the Brown Hotel in Louisville, Ky, and will provide strategies to help attendees:
Reduce expenses by cultivating satisfied, long-term employees

Nurture professionalism and responsibility

Understand different learning styles for effective teaching

Cut costs through process improvement

Mentor students and new staff, and more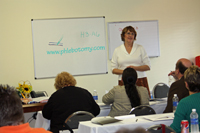 Attendees at the sold-out event held last November hailed from academic programs and clinical laboratories in the United States, Canada, and Australia.
Sessions will be conducted by Center for Phlebotomy Educationthe staff members, including:
Catherine Ernst, RN, PBT(ASCP), the Center's program administrator
Lisa Steinam, PBT(ASCP), program coordinator
Dennis J. Ernst MT(ASCP), executive director
Each attendee will receive a portfolio filled with resources, tips, and tools he or she can implement immediately.
In addition to learning how to be a more effective trainer, participants will have the opportunity to network with peers from across North America and beyond to share ideas, strategies, and solutions to their most perplexing problems.
The seminar is scheduled as follows in 2013:
May 8 to 10

July 10 to 12

November 6 to 8
Attendees qualify to receive 18 P.A.C.E. continuing education credits.
For more information, call (866) 657-9857.
[Source: Center for Phlebotomy Education]