In an effort to cut national health care costs, a number of changes have been put in place that will negatively affect laboratory reimbursement—and as a result, lab profits, according to Viewics, Sunnyvale, Calif, a provider of business intelligence and analytics solutions for labs.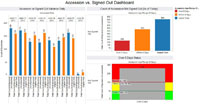 Three major changes are occurring: the expiration of the TC Grandfather Clause, changes in molecular pathology CPT Codes from the Clinical Laboratory Fee Schedule to the Physician Fee Schedule, and an overall decrease in clinical lab payments.
With these reimbursement cuts, the company says it is essential for clinical and anatomic pathology labs to adopt solutions that allow for quick access to the quality, operational, clinical, and financial data they need and adoption of a proactive approach to lab management.
TC Grandfather Clause Expiration
On June 30, 2012, the TC Grandfather Clause expired. The clause affects hospitals that outsource the technical component of some pathology services to a third-party lab. The third-party lab subsequently bills Medicare directly for the pathology services performed. Because this clause expired, hospitals must bill Medicare directly, resulting in the labs billing the hospitals. The technical component of code 88305, the most commonly ordered surgical pathology code, has experienced a 52% reduction.
The bottom line is that labs or pathology practices that provide TC Services for hospital patients now need to negotiate with hospitals for reimbursement levels for their TC Services. This may or may not result in lower reimbursement rates for pathology labs and practices, depending on the results of negotiations with their hospital clients.
Molecular Pathology CPT Code Changes
The Center for Medicare & Medicaid Services (CMS) has also proposed changes to the Physician Fee Schedule (PFS) for CY 2013, in particular to payment for molecular pathology services. For the last 20 years, CMS has reimbursed clinical labs for molecular pathology tests under the Clinical Laboratory Fee Schedule (CLFS). CMS is proposing adding new codes to describe molecular pathology tests and shifting some of those tests to the PFS.
Molecular pathology tests often require a degree of interpretation, which is typically performed by a PhD geneticist—not a physician. In some cases (approximately 20%), a pathologist may add interpretation. If the molecular pathology test CPT is shifted to the PFS from the CLFS, a certain amount of reimbursement is shifted from the lab to physicians, even if the physicians are not involved in actually interpreting the test (only ordering it). The American Clinical Laboratory Association (ACLA) conducted a survey and found that approximately 80% of services did not require a physician interpretation.
The molecular pathology tests represented by the new CPT codes are not new tests—only the codes are new. "Molecular pathology tests are currently billed using a combination of longstanding CPT codes that describe each of the various steps required to perform a given test. This billing method is called 'stacking' because different 'stacks' of codes are billed depending on the components of the fundamental test. Currently, all of the stacking codes are paid through the CLFS," according to CMS. But they were replaced as of January 1 with more specific codes, which will require that CMS determine how to pay for these new codes.
Clinical Lab Payment Rates
These major changes coincide with an overall change in clinical lab payment rates. Effective January 1, there was a 2.95% rate cut in clinical lab payments. It is expected to save Medicare $2.7 billion over 10 years. This cut was part of the Affordable Care Act (ACA). There is also the possibility of another 2% cut as part of federal budget balancing. Together, these have the potential to total a 23% decrease in lab fee cuts over 10 years.
Faced with significant downward pressure on reimbursement, labs are increasingly looking at ways to cut costs and improve lab efficiency. Click here to learn more about Viewics' solutions.
[Source: Viewics]