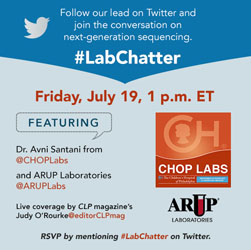 Avni Santani, PhD, scientific director of molecular genetics, The Children's Hospital of Philadelphia (@CHOPLabs), will be hosting a Twitter chat in collaboration with ARUP Laboratories (@ARUPLabs) on the impact of Next Gen Sequencing on laboratory medicine.
The chat will be held on Friday, July 19 at 1 pm EST. You can follow at #LabChatter on Twitter.
Judy O'Rourke, editor, CLP (@editorCLPmag), will provide live coverage during the event and pose questions to the presenters.
You can RSVP by mentioning #LabChatter on Twitter.
If you have any questions or need more information, contact Judy O'Rourke.