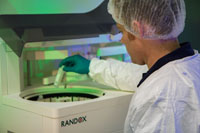 The FDA has approved the Acusera Immunoassay Specialty 1 control from Randox Laboratories, Kearneysville, WVa, for use in US labs.
A multi-analyte, lyophilised control, it contains nine complex immunoassays:
I-25-(OH)2 –Vitamin D
Insulin
Insulin Like Growth Factor 1
25-OH-Vitamin D
Peptide
Parathyroid Hormone
Procalcitonin
Anti-Thyroglobulin
It is an assayed quality control that is suitable for use with most immunoassay analyzers, and contains clinically relevant levels of Vitamin D.
It is a true third-party control, manufactured independently using 100% human serum that has been highly screened to ensure quality.
For enhanced lab performance, the company's quality control products can be used in conjunction with Acusera 24.7 Live Online, an interlaboratory data management and peer group reporting package designed to help monitor analytical performance, interpret QC results and, ultimately, to improve patient diagnosis through accurate and reliable patient test results.
Lyophilized for enhanced stability, when reconstituted, this control will remain stable for up to 5 days at +2 to 8°C or 4 weeks at -20°C.
[Source: Randox]