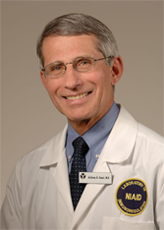 Anthony S. Fauci, MDKidney transplant rejections can be both predicted and diagnosed by analyzing three biomarkers in urine.
In a clinical trial sponsored by the National Institute of Allergy and Infectious Diseases (NIAID), part of the National Institutes of Health, the test offers‹‹ an accurate, noninvasive alternative to the standard kidney biopsy.
The findings appear in the July 4 issue of the New England Journal of Medicine.
"The development of a noninvasive test to monitor kidney transplant rejection status is an important advance that will allow doctors to intervene early to prevent rejection and the kidney injury it causes, which should improve long-term outcomes for transplant recipients," says NIAID Director Anthony S. Fauci, MD, director, NIAID.
Approximately 10% to 15 % of kidney recipients experience rejection within 1 year after transplantation. Biopsies are typically performed after the patient shows signs of kidney injury.
In this study, researchers at five clinical sites collected urine samples from 485 kidney transplant recipients, from 3 days to approximately 1 year after transplantation. Researchers assessed the urinary cell levels of several biomarkers that have been associated with rejection.
Analysis revealed that a group of three urinary biomarkers formed a diagnostic signature that could distinguish kidney recipients with biopsy-confirmed rejection from those whose biopsies did not show signs of rejection or who did not undergo a biopsy.
The biomarkers include two messenger RNA molecules that encode immune system proteins implicated in transplant rejection and one noncoding RNA molecule that participates in protein production.
To determine whether the urine test also could predict future rejection, the scientists analyzed trends in the diagnostic signature in urine samples taken in the weeks before an episode of rejection. The values for patients who experienced rejection increased slowly but steadily leading up to the event, with a characteristic sharp rise occurring approximately 20 days before biopsy-confirmed rejection had occurred.
Article: M Suthanthiran et al. Urinary cell mRNA profile and acute cellular rejection in kidney allografts. New England Journal of Medicine DOI: 10.1056/NEJMoa1215555 (2013).
[Source: NIH]