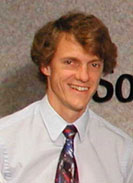 Jim Coogan, PEClinical laboratories often consume more energy and water per square foot than the average office building.
Efforts are under way to help labs find ways to conserve these precious and costly resources.
Jim Coogan, PE, principal engineer, product development and application, Building Technologies Division, Siemens Industry Inc, Buffalo Grove, Ill, and an innovation expert in energy consumption, will be speaking on the topic of applying building automation systems to help people conserve energy at the upcoming 2013 International Institute for Sustainable Laboratories (I2 SL Annual Conference) in Minneapolis.
"The relationship between people and buildings is the next hurdle for energy efficiency," Coogan says,
Building automation systems' functions and user interfaces help and encourage actions that make buildings work more effectively and efficiently.
However, the role people play in the consumption is often overlooked. Coogan's paper examines the interaction between buildings and the people (laboratorians) who use them.
The conference is being held at the Minneapolis Convention Center, and Coogan's presentation will be at 10 am on September 24. Click here for more on Coogan's talk.
Coogan participates in various programs for Labs 21, a joint project of the Environmental Protection Agency (EPA) and the US Department of Energy (DOE), which strives to better labs' environmental performance.
[Source: Siemens Infrastructure & Cities]