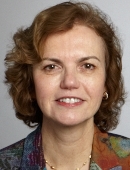 Janina A. Longtine, MD
Janina A. Longtine, MD, has been elected president of the Association for Molecular Pathology (AMP).
She will serve a 3-year term on the board of directors and executive committee; the first year serving as president-elect and chair of the Strategic Planning Committee (2013-2014), the second as president (2014-2015), and the third as past-president and chair of the Nominating Committee (2014-2015).
The turnover occurs at the society's annual meeting, which is held in November.
"In this era of genomic medicine, the field of molecular pathology is rapidly changing, and we must bring new knowledge and technologies to both the clinical and translational research settings, transforming our understanding, classification and treatment of disease," said Longtine, who currently serves as vice-chair, Molecular Pathology and Genetics, Department of Pathology, Icahn School of Medicine at Mount Sinai, New York. "The Association for Molecular Pathology is at the forefront in guiding its members and the broader community through clinical implementation, economic, and regulatory challenges via advocacy, education, and evidence-based guidelines for innovative practices that improve patient care and outcomes."
Mount Sinai's Division of Molecular Pathology and Genetics is particularly focused on cancer, with physicians and scientists performing an expanding array of biomarker tests that stratify cancers into biologic subgroups for rational, personalized therapy using advanced technologies.
The Department of Pathology is chaired by Carlos Cordon-Cardo, MD, PhD, who is a distinguished physician-scientist recognized internationally for his groundbreaking research in experimental pathology and molecular oncology. Cordon-Cardo has outlined a broad vision that redefines the discipline of pathology, placing it at the core of patient management and individualized medicine.
"Dr. Longtine's election as the president of the AMP is a strong endorsement of her expertise and leadership in molecular pathology, a cutting-edge discipline that is key to the future of pathology, especially as we move into value-based medicine," Cordon-Cardo says.
Prior to joining Mount Sinai in 2011, Longtine spent her career at the Brigham and Women's Hospital and Dana-Farber Cancer Institute in Boston, where she was most recently director, Molecular Diagnostics, and co-director, Center for Advanced Molecular Diagnostics, Department of Pathology; program director, Harvard Medical School Molecular Genetic Pathology Fellowship; and an associate professor of pathology, Harvard Medical School. Previously, Longtine has served as the chair of the Clinical Practice Committee and chair of the Hematopathology Division, Association for Molecular Pathology.
[Source: Mount Sinai Medical Center]