Randox, UK, with US headquarters in Kearneysville, WVa, introduces two new liquid assayed chemistry controls that offer labs time- and cost-savings while providing accurate results and patient diagnosis.
The controls will be available at the end of September 2013 in the UK, Europe, Far/Middle East, South Africa, and Australia. They are not available in the United States.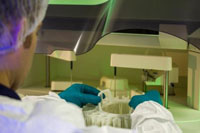 The Acusera Liquid Assayed Chemistry Premium and Premium Plus cut the number of individual quality controls (QC) a lab needs to run in routine medical testing, allowing labs to run QC on up to 100 analytes all within one test.
The Acusera Chemistry Premium Plus control contains 100 analytes, and the Acusera Chemistry Premium control offers 91.
High levels of CRP and other key proteins eliminate the need for multiple controls.
While the concept of offering multianalyte controls is not new, these controls are comprehensive, containing a combination of proteins, lipids, immunoassays, cardiac markers, blood markers, therapeutic drugs, and routine chemistry analytes. As true third-party controls, labs are assured of unbiased, independent assessment of analytical performance.
Both controls are liquid for ease of use, eliminating possible reconstitution errors. They are manufactured using human-based serum.
They are available in three concentration levels (low, mid, and high), and Premium Plus covers the full clinical range. The controls are highly stable when stored at -20° to -70°C, with open-vial stability of up to 7 days at +2° to 8°c.
[Source: Randox Laboratories]