Decal Chemical Corp, Tallman, NY, introduces Decalcification Nation, a series of short training videos covering methods for handling calcified histological specimens.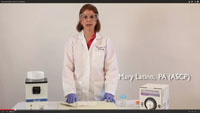 The first video in the series, How to Decalcify a Bone Core Specimen, which was recently uploaded to YouTube, features a demonstration by Mary Latino, PA(ASCP).
Additional videos are planned, covering topics such as fixation, trimming, staining, and more.
The company welcomes input on the series, including questions, suggestions, and comments relating to the field of histology.
Decal provides a range of products, including bone decalcifiers, pathology solutions, and technical information.
[Source: Decal Chemical Corp]